Are your next event entertainment options still up in the air? Why not keep them that way by booking one of Velvet Rope Entertainments world class aerial dancers.

It takes a certain type of person to want to climb, flip and spin 10 meters above the ground. We here at Velvet Rope Entertainment hand select these types of performers. If you want to see a mixture of beauty, grace and death-defying action, then look no further as we explain to you what our amazing aerialist dancers can do for your special event:
Aerial Silks are a combination of our performers Climbing, Wrapping and Dropping themselves with beautiful precision. Their movements are as smooth as the silk they climb. If you want an aerial dance performance that has a mesmerising elegance to it then look no further.
Aerial Ropes performers took the high school P.E climbing challenge one… or thirty steps further. These amazingly nimble performers climb up and down the supported rope, posing as they go, with an amazing level of strength! It's truly awe inspiring to watch what these performers can do with a bit of confidence and a whole lot of muscle.

Aerial Hoops and Box entertainers are the true aerialist contortionists! Manipulating their limbs into a series of poses and feats of flexibilty, all while spinning on a steel hoop. We pride ourselves on being at the cutting edge of live aerialist dance performance so we also have a range of custom frames to really set your event apart from the rest!
Aerial Champagne Service will take your event from ordinary to 'OH MY GOD WOW!' Our aerial champagne servers add the perfect touch of elegance and glamour as they dangle from the air. Champagne is King, or should we say Queen! This is fun interactive
experience your guest are sure to love.

Impressed? What if I told you that all of our aerial dancer entertainment options come in Solos, Duos AND Trios options as well!! We specialise in customising your big event event to your specifications and will personally oversee the whole process from start to finish.
So if you want this years celebration to soar to new heights, we are here to help in anyway we can.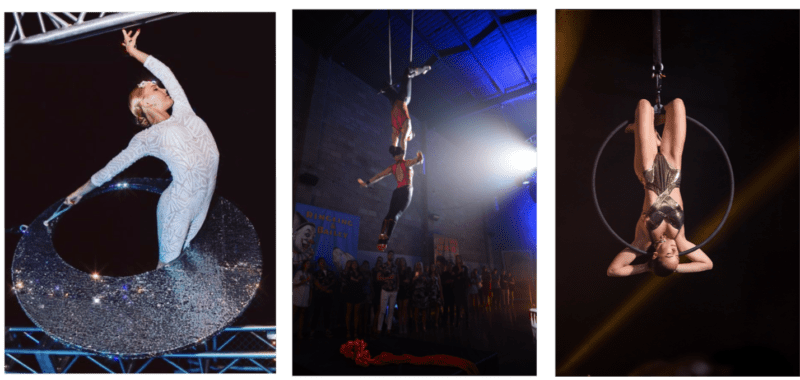 Click HERE to Find out more about our amazing Aerial Performances