Having revolutionised the nightclub scene in Las Vegas, we're now on a mission to reinvent nightclub entertainment in Australia! Our electrifying performances seamlessly integrate with clubs, lounges, brands and DJs.
Every element can be customised to your preferences for a truly unique experience. Our hand-picked nightclub entertainment performers are stunning and—most importantly—extremely talented. With couture costuming and high caliber Velvet Rope dancers and specialty acts, allow us to push the boundaries and create something extraordinary for your venue.
Our razor-sharp choreography, cutting-edge technology and flawless production will speak to the senses, creating a stimulating and emotionally-charged experience that will bring the music to life like nothing you've ever seen!
Hire LED Performers
If mesmerising and vibrant is what you're going for, then our glow performers and LED performers are the perfect choice to bring colour and incredible visuals to any room – or area if an evening outdoor spectacular is what you had in mind!
Our performers bring years of experience to their performances and can be briefed on any theme or mood that you're looking for and bring it to life.
LED performers captivate your audience with daring displays of acrobatics and dancing. These dynamic performances can create a fantastic atmosphere that will leave your guests wanting more. If 'amazed' is what you're going for, our modern LED and glow performers are perfect for a sensational experience.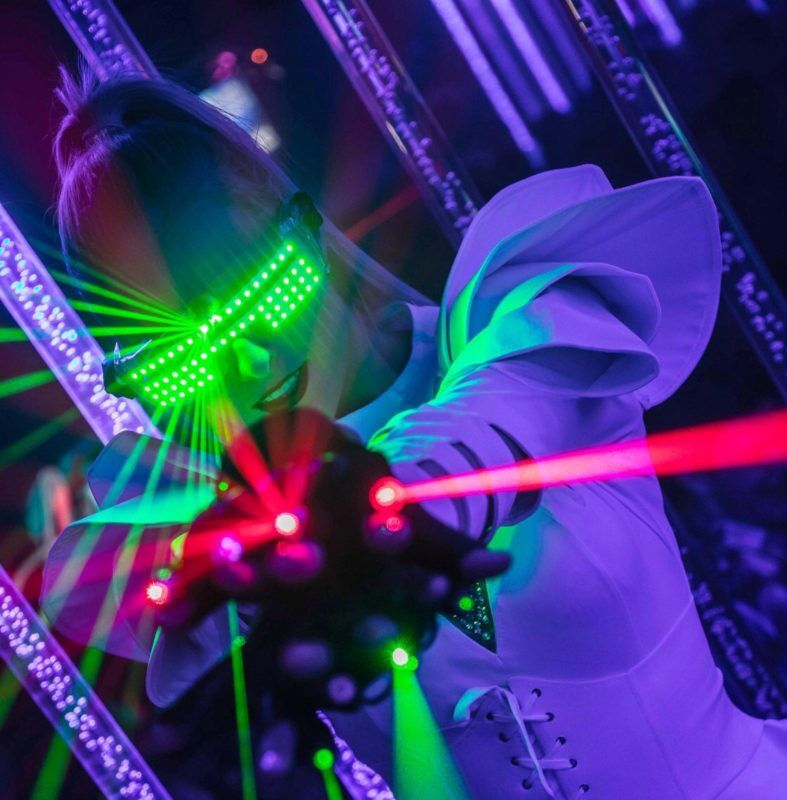 Laser dancers
Bringing together an exciting fusion of high-energy dance, skilled stunts, live music and the latest laser technology, our laser performers will add a stunning spectacle to your event and excite all the senses. A dynamic form of entertainment that will certainly captivate audiences, our laser performers use state of the art dual laser systems with superb programming capabilities and fantastic live control. Able to create custom laser projections in a range of colours and even convert video footage into live laser animation, our acts put on shows, unlike anything that you will have ever seen before. Always ready for a good time, our laser dancers will be the life and soul of your event making everyone enjoy the party much more. If you're looking for a wow-factor high-tech performance with a difference, laser dancers are your go-to option.
Velvet Rope Entertainment is the top entertainment agency, with friendly, experienced account managers who guarantee you the best deal possible. At Velvet Rope Entertainment we have everything you are looking for and more! Thanks to our creative experts, highly trained artists, and our high-end couture costuming, our entertainment is exactly what you need to deliver the 'WOW' at your next event Contact us today if you would like to book nightlife entertainment.