This is the day you've dreamt about your entire life, let's make it unforgettable!
Exchanging your vows should be the happiest moment of your life and the entire ceremony and the reception should be unique and agree with your personality and character. So, if you want to add a real wow factor to your wedding, think about introducing a true wedding entertainment into an entire event. Planning a wedding is stressful enough, so if you can leave at least one aspect of it to the professionals you should. There's no need for you to think too much about how to make an entire shindig more outstanding because our experts will give you the best advice and suggestions for the perfect performers for your big day. Our wedding musicians in Brisbane and on the Gold Coast will make your day memorable.
Living carpet
Your wedding is an extraordinary and unique occasion and a talented classical musician would be the icing on the (wedding) cake!
You can book gifted classical wedding musicians through us to add a touch of elegance and glamour to your ceremony. Hiring a classical musician is a great decision when it comes to the overall wedding day. Have a living white carpet girl playing the violin as your guests gather for the ceremony on the Gold Coast and Brisbane. A classical musician would be a great fit during the arrival of the guests, where they can play some light music as everyone comes in.
Not only will a carpet lady be a wonderful decorative item but she'll also make the ambiance a lot more elegant and festive by playing calming classical music during the entire event.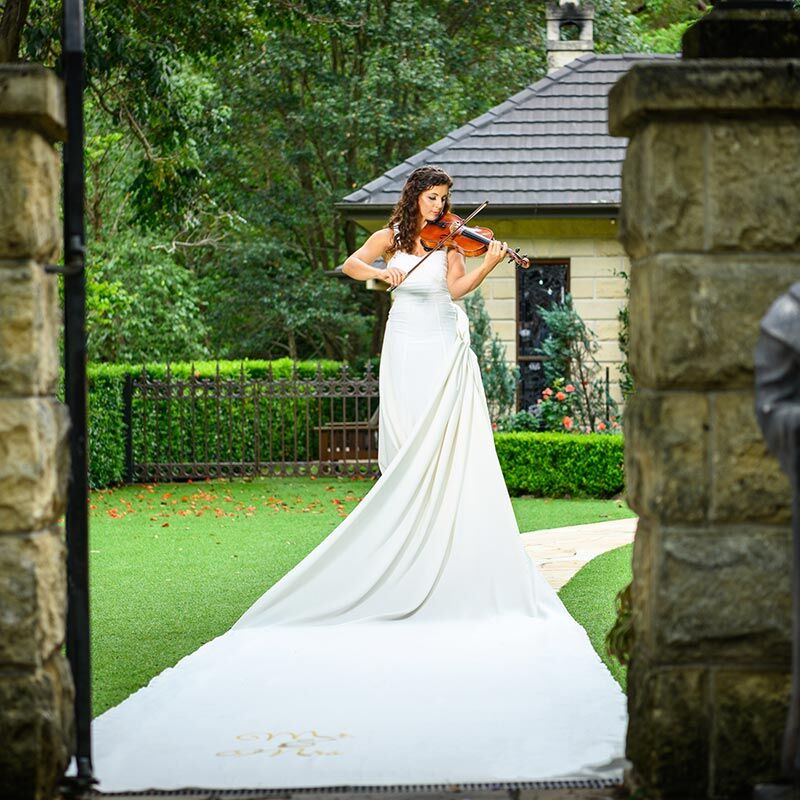 Champagne Service
Do you want your champagne to be served in style
If so think about hiring a champagne dress or a girl in a tall champagne glass. Both of them will be serving champagne to your guests with a slight difference that one of them would be mobile while the other one will entertain the guests from the inside of the wishing well glass.
Creating the perfect atmosphere for any event is our Dazzling Aerial Moon. Watch as the aerial performer elegantly pours champagne to the guests while sitting in the apparatus suspended in the air. Complete with her own, built-in champagne shelf she is also able to perform ambience sets in between champagne refills, giving you two elements.
Hire Wedding Entertainment through us – you'll be able to just relax and enjoy the wedding entertainment we prepared for you and your guests. No stress, just fun! You have some fun wedding entertainment ideas in mind, so crazy that you don't dare to tell anyone? No worries, we are here to make them happen! We also have an eclectic range of unique and unusual Wedding Entertainment for you to hire.
Velvet Rope Entertainment is the best wedding entertainment agency, with friendly, experienced account managers who guarantee you creative corporate event ideas, the best wedding entertainment for hire, and deals possible. Contact us today to discuss booking wedding entertainment – the brand for hiring our fab wedding entertainers and celebrate your wedding in style